Colossal Du – Is it Tougher than You?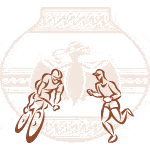 Colossal Du Is it Tougher than You?
Presented by: Tagg Runing Events and AndRace.com
Part of the Beyond Tucson events at Colossal Cave Mountain Park on January 11th
DATE: Saturday, January 11, 2014
LOCATION: Colossal Cave Mountain Park, 16721 E. Old Spanish Trail, Vail, AZ 85641
START TIME: 8:15 am – Participants will be allowed into the Park starting at 6:00am
COST: See below
BIB # PICK UP: Duathlon participants should pick up their packets the day before the event. Location to be determined.
Registration

Solo Entry Fee

2 or 3 Person Team Entry Fee

- Through 11/30/13

$60

$90

- From 12/1/13 until 1/8/14

$70

$100

- Last Chance: 1/10/14

$80

$110

No Race Day Registration. Last chance to register is in person is on the day before the race (Friday, January 10, 2014)
DUATHOLON INFO:
USAT membership or day pass is required for $12.  USAT insured and sanctioned event.
We've matched one of the toughest 5k's in Southern Arizona with a hilly 12 mile bike course,
and finishing with a 2 mile run. Although the bike route may change pending permit approval.
The beauty of the Sonoran Desert and gorgeous mountain ranges will surround you with views of the Stone Ramada at the Cave and the City of Tucson to the west.
All participants will get free entrance into the Park and a free tech t-shirt. All racers that register at least 10 days before the event are guaranteed a t-shirt in their specified size. In an attempt to predict racer participation, we will order some additional t-shirts. However, those registering within 10 days of the event will receive t-shirts while supplies last.
Awards will be three deep in all age groups. Pre-registration is required.
We hope you come out bring the family and make a day at the Park.
Directions to Colossal Cave Mountain Park:
From East 22nd Street, turn south onto scenic Old Spanish Trail and follow it about 17 miles to Colossal Cave Mountain Park.
Or, take I-10 east from Tucson to exit 279 (the Vail/Wentworth exit), turn north, and follow the signs for about 7 miles.
We listened to some suggestions… starting the race a little later (8:15am) and added a "Fat Tire" division.
Route:
Bike route  This gives you the elevation break down.  There are some good sized hills in the loop.  We do the loop twice.  This is a county and park "paved" road.
Run route This is the 5k run route.  The 2 mile run is to the first mile then turn around.